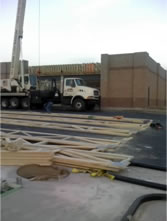 Prudent Development is a full service real estate development company that will bridge the gap between site selection, design and construction for your next project. Whether it's a bank, a convenience store, or other retail project we are able to utilize our skills for any and every aspect of your development needs. We are able to offer a variety of services which include providing site selection, obtaining project entitlements, managing the bid process, construction supervision, design consultation and guidance, site acquisitions and strategic planning.
Guided by over three decades of experience in real estate brokerage, retail development, permitting, contract negotiation and construction management, Prudent will competently and efficiently handle every aspect of your development. We understand the need to match retail operation needs with real estate requirements and apply our knowledge to make the development less stressful for our clients.
Prudent lays the foundation for a successful development project as part of a powerful team that seamlessly executes every step of the development process. Call us and let us take the hassle out of your next project.
We're one less call!
For more information about complete real estate, project design and construction services from our family of companies, please contact us.