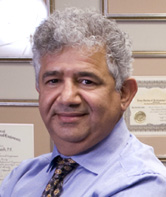 Mostafa Setayesh, P.E.
President/CEO
Mostafa founded Prudent Development in 2004 to expand and integrate the developmental design capabilities of The Dimension Group and the construction capabilities of Turnkey Construction, both of which he founded. His comprehensive vision, based on years of experience with engineering consulting firms, brings a more hands-on approach to the real estate development business and a dedication to customer service.
Mostafa is actively involved in setting the strategic direction for Prudent Development, and looks forward to the opportunity to ensure that your expectations are fully met. Mostafa holds a Bachelors of Science degree in Civil Engineering from Southern Methodist University and is a registered Professional Engineer in the State of Texas.
Gary Fullington
Vice President
Gary joined Prudent in 2006, with over 35 years as a licensed Real Estate Broker in the State of Texas and is responsible for business development and operations in both Texas and Colorado. His extensive experience in both government (City of Dallas Property Manager) and Corporate (7-Eleven) environments gives him deep insight into all phases developing a project. Gary holds a Bachelor of Business Administration degree in Finance from North Texas State University and an Associate's Degree in Real Estate.